Development Impacts

has an interesting series of articles titled "Impact of Economics Blogs" that makes bloggers feel like they m
atter. There are currently 3 parts, with more come (I,

II

,

III

).
Currently, my favourite is the article that looks at the effect of blogging on the dissemination of papers and whether blogging about a paper lead to it being accessed/disseminated more. The study found that "Blogging about a paper causes a large increase in the number of abstract views and downloads in the same month"
They provide some lovely examples:
Here is one using Chris Blattman's blog: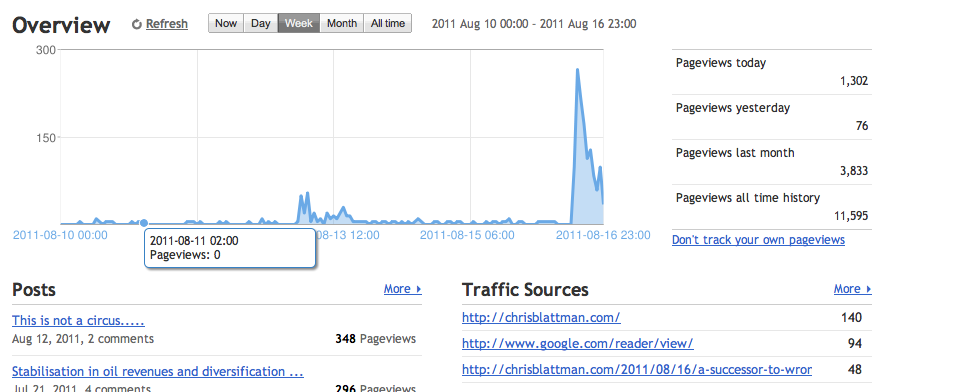 Oh wait....no, that's this blog's stats page. However, it seems that the graph is showing a similar effect. A sudden massive surge in hits from a mere few hours?! From 76 one day to 1,302 the other....What incredible force could have caused such a spike?
Na, na, na, na, na, na, na, na, Blattman!

But I am not alone in having experienced this effect. This is Roving Bandit's after Blattman posted about his blog.
With a massive sample size of a 2 I think we can safely declare this an effect.

The Blattman Blog Effect.

Now how can I use this new found fame as a chat up line?.......